Contemporary production of malt is an ancient process which is augmented with the benefits of modern technology. The steps in the malting process include: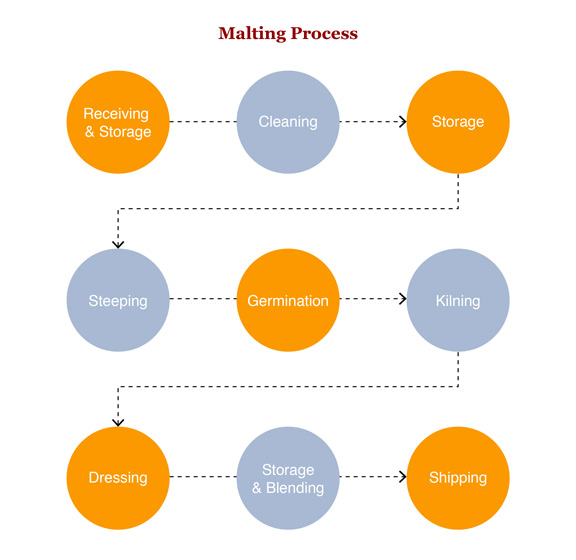 There are two major types of facility layout for malting facilities: horizontal or vertical.
Horizontal plant layout takes advantage of space. In this type of facility layout, personnel supervision is enhanced. Additionally, maintenance and sanitation are improved. Disadvantages of this type of facility arrangement include increased equipment costs and heavily congested ceilings with greater than average heights.
In a vertical plant arrangement there is reduced conveying machinery cost due to the use of gravity to convey the materials. Also, less physical space is required for the plant. Construction costs might be higher than traditional horizontal layout.
The loads on a malting facility are unique and require special attention. The typical major structural elements of a malting facility that require specialized designs are:
Malting Plant Loads
Grain Storage, Reclaim, and Distribution Design
Germination and Steeping Vessel Design
Malting Building/Tower Design
Kiln Vessel Design
Cleaning and Dressing Tower Design
Load Out and Receiving Building Design
Plant construction materials vary by processing area in malt production facilities. As a food production facility with harsh interior environmental conditions, selection of materials for construction is critical for proper sanitation and operation. Good housekeeping, moisture resistance, cleanability, and dust accumulation prevention are key elements of First Key's sanitary design.